90% of Nishiokoppe is forested. There are many brown bears, deer, foxes and rabbits. In September, pink salmon spawn in the Okoppe river in Nishiokoppe. A Japanese variety of salmon, called cherry salmon, spawns in the mountain brooks.
Gyoja Falls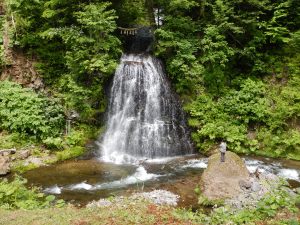 Gyoja is a person who believes in the Buddhist doctrines.A long time ago,a Gyoja prayed for recovering an incurable desease while taking the waterfall.That's why this fall is called Gyoja Falls.
You can feel peace when you visit here.
Location: It is 2 kilometers from Kamiokoppe on your way towards Shimokawa. There is a large sign on the road that has a rainbow on it. Turn on that road. You will drive on pavement, then on a dirt road. It takes 20 minutes to drive there from Nishiokoppe.
The Festival of Gyoja Falls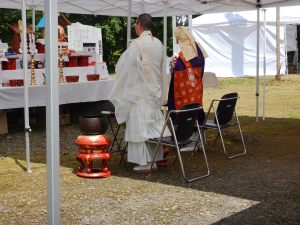 There is the Festival of Gyoja Falls on 19th July every year.
Akaiwa Falls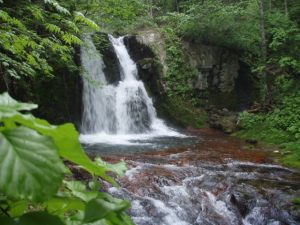 Location: Akaiwa Falls is located on the same road as Gyoja Falls. Park at Gyoja Falls and walk 4 kilometers to Akaiwa Falls. The area is very beauitful. The walk is slightly uphill.
Autumn Colors
The autumn colors around Nishiokoppe are beautiful. You can see them in September and October. They are very beautiful near the Okoppe River and in the mountains.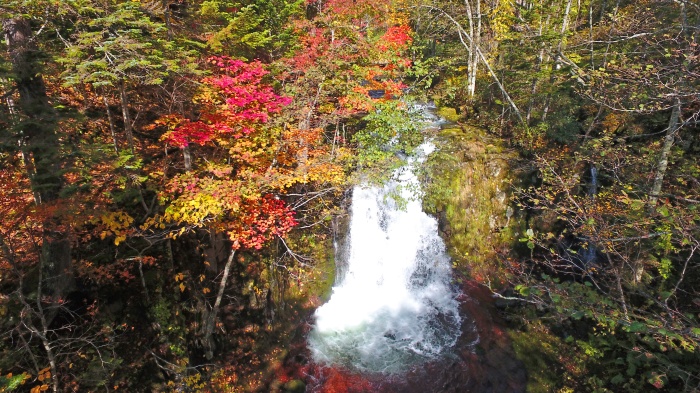 Mt. Uenshiri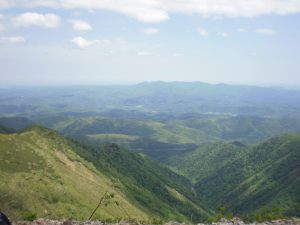 Mt. Uenshiri is the highest mountain in Nishiokoppe-mura. It takes about 2 hours to climb to the top. You can access two different trailheads. One is located on Highway 137 about halfway to Takinoue. It is clearly marked on the road. The other way is taking the road across the street from Kamiokoppe Elementary school. It is an old logging road that switchbacks up a different mountain. The hike from here is longer, but less steep, as you will be hiking the ridge line. These two roads do connect, making a loop!
Wildlife
Many animals live in Nishiokoppe.